Tarpon Fishing Key West in this article it will be your go-to resource for as an angler seeking a successful and enjoyable tarpon fishing experience. With decades of experience as a tarpon fishing guide, I will offer my tips for live bait, artificial, and fly fishing.
As one of the top Tarpon Fishing Destinations you need to visit at least once 
This comprehensive guide focuses on less crowded areas, ensuring a peaceful and productive outing. Some of the top charters feature fast, safe, and comfortable boats, along with top-quality fishing gear. ( and the knowledge to catch).
Whether it's the tarpon fishing season from May to July or year-round opportunities, this guide has all the insights and tips needed to reel in the big catch.
Key Takeaways
Key West is a popular destination for tarpon fishing, offering excellent opportunities for anglers.
The tarpon fishing guide has extensive experience since the early 90s and offers his tips for live bait, artificial, and fly fishing.
The guide focuses on fishing in areas with tarpon but without crowds, using top-quality equipment and providing bait, lures, and flies.
The Tarpon fishing season in Key West is traditionally from May to July, but you can find tarpon throughout the year, with different fishing opportunities in other months.
Best Time to Go Tarpon Fishing in Key West
The best time to go tarpon fishing in Key West is during the traditional tarpon fishing season, which runs from May to July. Key West offers some of the best tarpon fishing hotspots in the world.
One popular spot is the Boca Grande Pass, known for its large tarpon population. Another great area is the Seven Mile Bridge, where tarpon can be found migrating along the bridge's pilings.
Seven Mile Bridge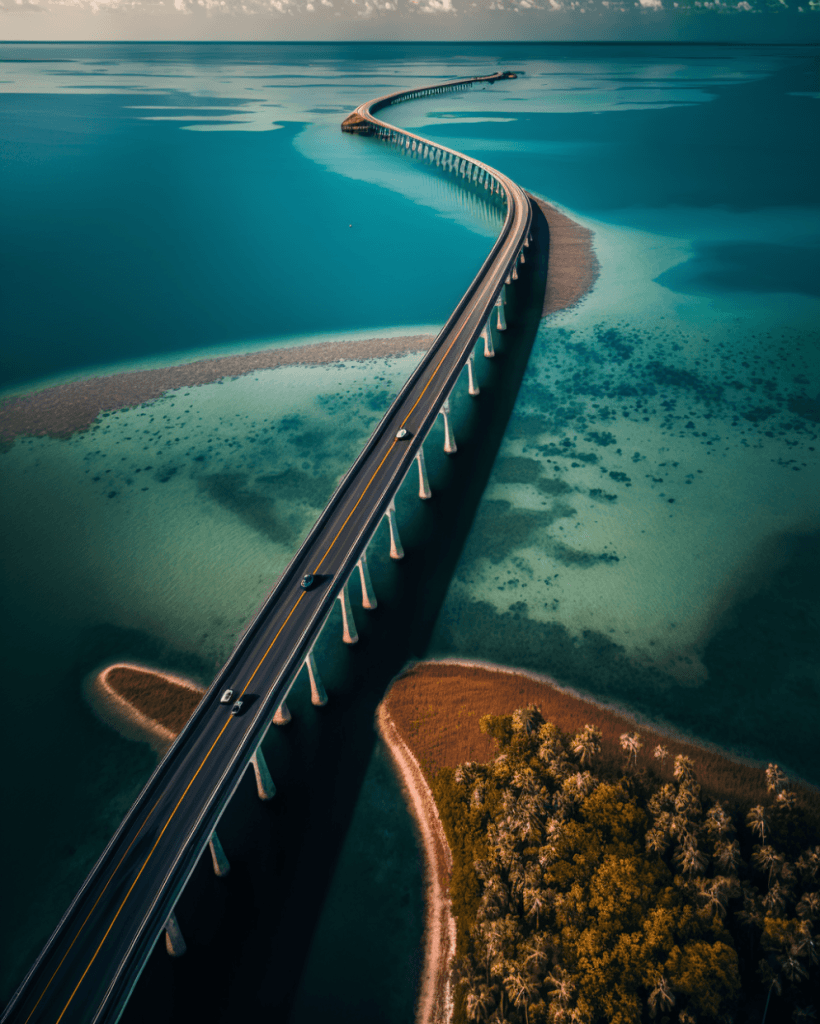 The Seven Mile Bridge is a long bridge that connects the Lower Keys to the Middle Keys in the Florida Keys. It is a popular spot for tarpon fishing because the bridge provides a natural habitat for the fish. You see the pilings of the bridge create a maze of shadows. The strong currents attract tarpon, and the fish can often be seen swimming along the pilings. Theyare on the hunt looking for food.
Tarpon are migratory fish, and they typically travel from the Florida Keys to the Gulf of Mexico in the spring and summer. The Seven Mile Bridge is a popular spot for tarpon migration because it provides a safe place for the fish to rest and feed.
To fish for tarpon at the Seven Mile Bridge, you will need a strong rod and reel, a heavy line, and a large hook. You can use live bait, such as crabs or shrimp, or artificial lures. The best time to fish for tarpon at the Seven Mile Bridge is in the early morning or late afternoon, when the fish are more active.
Must Read for Seven mile Bridge
Here are some tips for fishing for tarpon at the Seven Mile Bridge:
Use a strong rod and reel. Tarpon are strong fish, and you will need a rod that can handle their weight.
Use a heavy line. Tarpon can break line easily, so you need to use a line that is strong enough to hold them.
Use a large hook. Tarpon have a large mouth, so you need to use a hook that is big enough to catch them.
Use live bait. Live bait is the best way to attract tarpon.
Fish in the early morning or late afternoon. Tarpon are more active during these times.
Be patient. Tarpon are not easy to catch, so you need to be patient.
If you are lucky enough to catch a tarpon at the Seven Mile Bridge, it will be an experience that you will never forget. These fish are powerful and beautiful, and they are a thrilling challenge to catch.
When it comes to bait, you cannot beat live mullet. It is considered the best bait for tarpon fishing in Key West bar none. Tarpon are known for their preference for a lively bait, and mullet fits the bill perfectly. Anglers can also use artificial lures such as swimbaits and jigs, or try their hand at fly fishing with streamer patterns.
Regardless of the chosen method, tarpon fishing in Key West during the peak season is sure to provide an unforgettable experience.
Choosing the Right Fishing Gear for Tarpon
Anglers can choose from top-quality brands like DAIWA and ORVIS for their tarpon fishing gear. When it comes to tarpon fishing, selecting the right fishing line is crucial.
There are several options available, each with its own advantages and disadvantages. Monofilament line is a popular choice for tarpon fishing due to its versatility and affordability. It offers good knot strength and is resistant to abrasion.
Another option you have is braided line. This has a higher strength-to-diameter ratio and provides excellent sensitivity. Fluorocarbon line is also commonly used for tarpon fishing as it is virtually invisible underwater. It has low stretch and high abrasion resistance.
Ultimately, the choice of fishing line depends on personal preference and fishing conditions. Anglers you should consider factors such as water clarity, target size of tarpon, and the type of fishing technique you need to be using.
Tips for Fighting Tarpon on Light Tackle
When fighting tarpon on light tackle, it's important to maintain a steady pressure and keep the line tight. You know Tarpon have incredible strength and make acrobatic jumps, making them a challenging species to reel in.
To effectively fight a tarpon, anglers should employ specific techniques and strategies. Firstly, it's crucial to keep the line tight to prevent the fish from shaking the hook. You can be achieve by smoothly reeling in the line while simultaneously applying pressure with the rod.
Secondly, anglers should be prepared for the tarpon's powerful runs by allowing the fish to take line when necessary and adjusting the drag accordingly.
Lastly, it's important to stay focused and patient during the fight, as tarpon can test an angler's endurance.
Exploring Tarpon Fishing Locations in Key West
Visitors to Key West can explore a variety of locations for tarpon fishing. In Key West it is known for its abundance of tarpon fishing hotspots. Here is where anglers can try their luck at catching these powerful fish. Here are some top tips for successful tarpon fishing in Key West:
The flats of Key West: These shallow areas attract tarpon during the spring and summer months. Look for them in the early morning or late afternoon when they are most active.

Channels and bridges: Tarpon often gather near channels and bridges, where they can find food and shelter. Target these areas during the incoming or outgoing tide for the best chances of a catch.

Backcountry waters: The backcountry of Key West offers endless opportunities for tarpon fishing. These remote areas are less crowded and provide a serene fishing experience.

Nearshore reefs: Tarpon can also be found near the reefs surrounding Key West. Look for them around structure and drop-offs, and use live bait or artificial lures to entice them.
Tarpon Fishing Techniques: Live Bait Vs. Artificial Lures
The experienced captains offer guidance on the effectiveness of using live bait versus artificial lures when targeting tarpon in the waters of Key West. Tarpon fishing techniques vary, and anglers often debate the merits of live bait versus artificial lures. To help make an informed decision, the experienced captains provided a comparison of the two methods in the table below:
| Live Bait | Artificial Lures |
| --- | --- |
| Natural scent and movement | Lifelike imitations |
| Effective for enticing tarpon | Requires skill in presentation |
| Requires baitfish or crabs | Various types available |
| May attract other species | Less messy and easier to handle |
When it comes to finding the best spots for tarpon fishing in Key West, the captain's experience and knowledge come into play. He knows the local waters like the back of his hand and can guide anglers to productive areas where tarpon are known to congregate. Whether it's near bridges, in channels, or along the flats, the captain knows the prime locations to increase the chances of a successful tarpon fishing trip. So, whether you prefer live bait or artificial lures, the captain can provide valuable advice and help you target tarpon in Key West.
The Art of Fly Fishing for Tarpon in Key West
After discussing the techniques of using live bait versus artificial lures for tarpon fishing in Key West, let's now delve into the art of fly fishing for tarpon.
Fly fishing is a popular and challenging method used by anglers to target these elusive fish. Understanding tarpon behavior and employing effective fly fishing techniques are crucial for a successful catch. Here are some key points to consider:
Selecting the right fly: Choosing the appropriate fly pattern that mimics the tarpon's natural prey is essential.

Presentation: Properly presenting the fly to the tarpon in a way that imitates natural movement is crucial for enticing a strike.

Strip strike: Instead of using a traditional hookset, employing a strip strike technique helps to set the hook firmly in the tarpon's bony mouth.

Fighting the tarpon: Tarpon are known for their acrobatic jumps and powerful runs. It's important to maintain a balanced and controlled fight while keeping tension on the line.
Planning Your Tarpon Fishing Charter in Key West
When planning a tarpon fishing charter in Key West, anglers should consider factors such as availability, desired trip duration, and preferred departure times.
Key West offers some of the best tarpon fishing spots in the world, making it an ideal destination for anglers seeking an exciting and challenging fishing experience.
Availability of tarpon fishing charters can vary depending on the season, so it's advisable to book in advance to secure a spot.
Trip duration options typically range from 4 to 6 hours, allowing anglers ample time to locate and catch these powerful fish.
Departure times may vary depending on factors such as tides and moon phases, as these can greatly impact tarpon feeding patterns.
Tarpon Fishing Season: May to July and Beyond
Anglers can experience the thrill of tarpon fishing in Key West from May to July and even beyond. During this time, tarpon migrate along the Florida Keys, making it an ideal destination for anglers looking to target these powerful fish. Understanding tarpon migration patterns is key to finding success in catching them.
Additionally, knowing the best moon and tide phases for tarpon fishing can greatly increase the chances of a successful outing. The moon and tides play a significant role in the behavior and feeding patterns of tarpon. By planning their trips accordingly, anglers can maximize their opportunities to hook into these sought-after fish.
Whether using live bait, artificial lures, or flies, targeting tarpon in Key West during the peak season offers a thrilling and memorable experience for any angler.
Other Fishing Opportunities in Key West
The website offers a variety of fishing charters, including deep sea, flats, backcountry, and reef fishing. For anglers interested in exploring the diverse fishing opportunities in Key West, there are plenty of options to choose from. One popular choice is flats fishing. This allows anglers to target species like bonefish, permit, and tarpon in the shallow waters of the flats. The flats in Key West are known for their clear waters and abundant marine life. Making them some of the best spots for flats fishing. However, it is important to be aware of tarpon fishing regulations, as there are specific rules in place to protect this highly sought-after species. By following these regulations and fishing responsibly, anglers can enjoy a successful and enjoyable flats fishing experience in Key West.
Best Spots for Flats Fishing
1. Marquesas Keys
2. Florida Bay
3. Gulf of Mexico
4. Backcountry
5. Key West Harbor
Frequently Asked Questions
How Long Has the Guide Been a Tarpon Fishing Guide in Key West?
The guide has been a tarpon fishing guide in Key West since the early 90s. With their extensive experience level, they are well-versed in various fishing techniques and can provide valuable insights to anglers.
What Types of Boats Are Used for the Tarpon Fishing Charters?
For tarpon fishing charters in Key West, the guide uses boats that are like sleek, well-equipped vessels. The types of boats vary depending on the time of year, boat preferences, and targeted species. There is no size limit for tarpon fishing charters in Key West.
Can the Guide Accommodate More Than Three Persons on a Tarpon Fishing Charter?
The guide can accommodate larger groups on tarpon fishing charters, but it is recommended to contact them for specific details and availability. They also provide tarpon fishing techniques and tips for beginners.
Is Fly Fishing Gear Provided for All Anglers on the Tarpon Fishing Charters?
Yes, fly fishing gear is provided for all anglers on the tarpon fishing charters. The guide ensures that everyone has the necessary equipment to practice fly fishing techniques. This will increase your chances of a successful catch.
What Other Types of Fishing Charters Are Available in Key West Besides Tarpon Fishing?
In addition to tarpon fishing. Key West offers various types of fishing charters such as deep sea, flats, backcountry, and reef fishing. The best time for tarpon fishing in Key West is from May to July.
Other things to do in Key West and the weather key west has helps
Exploring the Charming Island of Key West, Florida: 14 Must-Visit Spots
Key West, a picturesque island nestled in the Florida Keys, is a paradise for history enthusiasts, nightlife lovers, and foodies alike. With its rich history, vibrant culture, and breathtaking landscapes, this 4-mile long island offers a plethora of activities and attractions to enjoy during your visit. Whether you're planning a long weekend getaway or a week-long vacation, Key West has something for everyone. Here's a curated list of 14 must-visit spots that you shouldn't miss during your stay:
1. **Key West Lighthouse**: Over 150 years old, this lighthouse served as a navigational resource for ships and now offers stunning views of the city from its top. Not for the faint-hearted due to its iron spiral staircase, the lighthouse promises a unique experience.
2. **Ernest Hemingway's Home and Museum**: The author's former residence is a popular attraction, offering insights into Hemingway's life, works, and even housing six-toed cats. Explore the museum and immerse yourself in the history.
3. **Shipwreck Museum**: Discover the fascinating history of Key West's shipwrecks and the industry that emerged around them. The museum provides a well-curated collection of exhibits that shed light on the city's maritime heritage.
4. **Fort Zachary Taylor State Park**: Explore the well-preserved fort and enjoy the beautiful beach within the state park. A perfect blend of military history and natural beauty awaits you.
5. **Butterfly and Nature Conservatory**: An enchanting experience for families, the conservatory offers a magical world of fluttering butterflies and vibrant birds. Take a leisurely stroll and relish this unique encounter with nature.
6. **Truman's Little White House**: Dive into history by visiting President Truman's vacation home. While you can't take photos on the tour, the museum and the grounds are worth exploring.
7. **Duval Street**: The heart of downtown Key West, Duval Street boasts an array of restaurants and bars, making it the city's nightlife hub. Stroll along this lively street, enjoy local cuisine, and soak in the vibrant atmosphere.
8. **Mallory Square Sunset Celebration**: A must-do activity, join the sunset celebration at Mallory Square. Witnessing the sunset amidst the lively crowd is a memorable experience.
9. **Key West First Legal Rum Distillery**: Enjoy a taste of the local spirit by visiting this distillery. A unique stop for those interested in spirits and local history.
10. **Key Lime Pie**: Indulge in the iconic Key lime pie, a local delicacy that's available in various forms throughout the city. Try different versions and find your favorite.
11. **Dry Tortugas National Park**: Embark on a full-day adventure to this remote national park. Accessible by seaplane or boat, the park offers snorkeling, historical sites, and stunning landscapes.
12. **Conch Tour Train**: If you're short on time, hop on the Conch Tour Train for a comprehensive overview of the city's highlights.
13. **Night Haunted Walking Tour**: For those intrigued by history and the supernatural, the night haunted walking tour offers insights into the city's spooky tales.
14. **Local Artisans and Craft Shops**: Don't forget to explore local art galleries and craft shops. Support local artisans and take home unique souvenirs.
From historic landmarks to natural wonders, Key West has a diverse range of attractions to explore. Whether you're interested in maritime history, literary heritage, or simply relaxing on the beach, this charming island has something to offer every type of traveler. So, pack your bags, immerse yourself in the vibrant culture, and enjoy a memorable vacation on this tropical paradise.
One last mention for a great way to spend some off time from fishing have a look and try the key west express with all these attractions you will have to make time for fishing or better still come again.